RT STORE TERMS AND CONDITIONS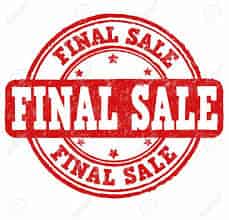 WE HAVE CHANGED OUR STORE! 
TO ORDER PLEASE CALL  OR COME ON IN TO THE STORE! EMAIL OR TEXT JUST GET IN TOUCH WITH US 🙂
TERMS HAVE CHANGED
Welcome to our online RT STORE!!
Items are posted for sale for our consignors and ourselves.
These items are for sale at buy now price for 90 days ONLY!
If not sold items will be placed in live auction event closest to the 90 day deadline.
Items are available for preview at 4995 Victoria Avenue, NIAGARA FALLS
Buy it now!  There is no buyer's premium on our online items either! Consignors can sell with us too! Contact us and we can discuss your consignor fee and get your items SOLD!
If you continue to browse and use this website you are agreeing to comply with and be bound by the following terms and conditions of use and govern R&T Auctions relationship with you in relation to this online RT Store.
The term "RT STORE" or "us" or "we" refers to the owner of the website whose office is 4525 Dorchester Road, Suite 115, Niagara Falls, Ontario. The term "you" refers to the user or viewer of our website. The use of this website is subject to the following terms of use:
The content of the pages of this website is for your general information and use only. It is subject to change without notice.




 

Neither we nor any third parties provide any warranty or guarantee on any items sold. All items will be described as best as possible. Items are most often used items. Be sure to ask any questions prior to ordering. All sales are final. Pictures will show obvious imperfections You acknowledge that such information and materials may contain inaccuracies or errors and we expressly exclude liability for any such inaccuracies or errors fully permitted by law.




 

Your use of any information or materials on this website is entirely at your own risk, for which we shall not be liable. It shall be your own responsibility to ensure that any products, services or information available through this website meet your specific requirements.
Unauthorised use of this website may result in a claim for damages and/or be a criminal offence.




 

You may not create a link to this website from another website or document without prior written consent.
Orders
CART UNDER CONSTRUCTION PLEASE FOLLOW STEPS
To place your order please contact info@rtauctions.ca while our "CART" is under construction.
Orders can be made by contacting 18337827653 or emailing info@rtauctions.ca to begin sale.
Please contact us directly and we can complete your order with you personally.
Delivery of your product can be arranged through R&T Auctions. Free delivery is available in a limited area. Please inquire about free delivery and how much fees will be if ineligible for free.
Items will not be shipped via mail without written agreement by R&T Auctions. 
Items will be available for pick up  within 72 hours of order. 
Your order will be deemed to be accepted only when we send a paid invoice of such order to your email address provided to R&T.